Back to search results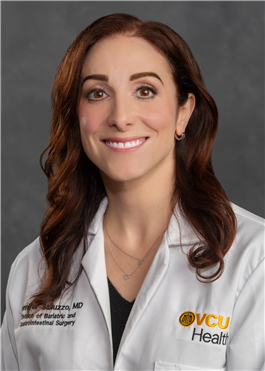 Jennifer L Salluzzo, MD, FACS
Weight Loss Surgery
Gastrointestinal Surgery
General Surgery
Bariatric Surgery
Education
Med School
Tufts University School of Medicine
Internship
Yale University School of Medicine
Residency
Yale University School of Medicine
Fellowship
Yale University School of Medicine
Biography
Helping people live better, healthier lives through science and technology
From a young age, Dr. Jennifer Salluzzo was fascinated by the way science could be used to treat disease. That's particularly true when it comes to conditions such as obesity, where controlling one's metabolism – paired with the advanced technology behind today's surgical weight-loss procedures – work together to radically change and improve a person's quality of life.
Dr. Salluzzo specializes in minimally invasive surgical procedures, using small incisions, tiny cameras, and robots to treat diseases of the esophagus, stomach, gallbladder and intestines. She is also a weight-loss surgery specialist, helping those struggling with obesity. Dr. Salluzzo also leads our hernia program, a collaborative and multidisciplinary team of physicians from across the health system working together to treat basic to complex abdominal wall hernias.
Minimally invasive surgeries mean shorter hospital stays, less pain after the operation, and the ability to get patients back to work and life sooner. Many of Dr. Salluzzo's patients are also living with additional, often complex conditions that require multidisciplinary treatment, "which is one of the benefits of coming to VCU Health," she says. "Here, as a patient, you have access to specialty physicians constantly striving to provide you the best possible care."
Still, Dr. Salluzzo notes, every patient plays a central role in his or her own care team. Particularly with weight-loss surgery, it is important to stay determined, be patient, and follow instructions on proper diet, nutrition and exercise. "I want to help every person, but that requires working together to find the best care pathway that will lead to the best and safest outcome," she says.
And when that outcome is positive, the benefits come to both patient and physician.
"When I see a patient a few months or years later, whether at a follow-up visit or we bump into one another in public, and they tell me how they are able to perform an activity that was not physically possible before surgery," she says, "it's that feeling that reminds me why I chose this path as a surgeon."
Out of the OR, Dr. Salluzzo enjoys time with her husband and daughter, Pilates exercises, and travel.
Research interests
Dr. Salluzzo's research interests include general surgery, bariatric surgery and hernia surgery.