Back to search results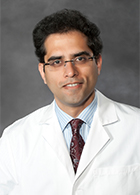 Jayanthi N Koneru, MD
CMH Cardiology Services
Cardiology
Education
Medical School
Osmania Medical College
Internship
St. Luke's-Roosevelt Hospital Center
Residency
St. Luke's-Roosevelt Hospital Center
Fellowship
University of Nebraska Medical Center
Biography
Dr. Koneru's association with VCU Pauley Heart Center started in 2010 when he started his advanced training as a fellow in Cardiac Electrophysiology and in 2012, he joined the VCU Pauley Heart Center Cardiology Division's faculty, specializing in Cardiac Electrophysiology.
He is Associate Professor in the Division of Cardiology and currently serves as the Fellowship Program Director for Cardiac Electrophysiology.
Dr. Koneru earned his medical degree from the Osmania Medical College, an institution with thirteen teaching hospitals and one of the oldest medical colleges in India. Dr. Koneru completed his residency and chief residency in Internal Medicine at St. Luke's-Roosevelt Hospital, Columbia University College of Physicians and Surgeons, New York. He was recognized by his peers as "outstanding physician of the year" in every year of his residency.
Dr. Koneru's clinical expertise includes the entire gamut of clinical electrophysiology. He is a nationally recognized expert in the field of conduction system pacing. He performs complex ablations that include epi and endocardial mapping and ablation for supraventricular and ventricular tachycardias, performs cryo-balloon, pulse-field and radiofrequency ablation for atrial fibrillation as well as ethanol ablation for atrial and ventricular arrhythmias. Dr. Koneru's skills extend to complex lead management issues, and he has performed numerous lead extractions with laser assisted technologies and femoral snares and has experience with autonomic modulation for Ventricular Tachyarrhythmias and cardioinhibitory syncope.
Dr. Koneru's research interests include mapping and ablation of complex arrhythmias, post-operative atrial tachycardias, atrial fibrillation, ventricular tachycardias in LVAD patients and shock reduction in patients with ICDs, ablation with hybrid approach for supraventricular and ventricular tachycardias. He is actively involved in clinical trials of investigational mapping technologies for atrial fibrillation and atrial tachycardias. Dr. Koneru's research and editorials have appeared in highly respected journals such as the Journal of the American College of Cardiology, Circulation: Arrhythmia and electrophysiology, Heart Rhythm and PACE, journal of cardiovascular electrophysiology and New England Journal of Medicine Evidence. He is an invited reviewer for numerous journals and is a faculty member at the annual scientific sessions of the Heart Rhythm Society.
Clinical Interests
Electrophysiology; Atrial Fibrillation; Heart Disease