Back to search results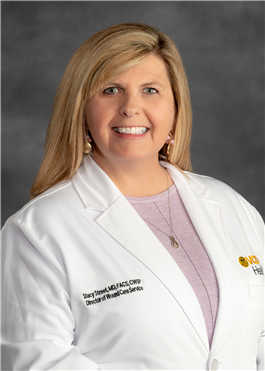 Stacy Street, MD
Acute Care Surgical Services / Trauma
Education
Medical School
Joan C. Edwards School of Medicine Marshall University
Internship
Medical College of Georgia Hospital and Clinics
Residency
Medical College of Georgia Hospital and Clinics
Biography
Proper wound care is complex. It requires lifestyle changes. And it takes hard work to heal and stay healed. Dr. Stacy Street wants her patients to understand the road ahead.
"Patients need to know that it will take work to heal their wounds — both on our part as physicians, and on their end, too,'" she says. "I don't 'sugar-coat' — I'm very upfront with my patients. I want them to understand and feel comfortable as we discuss what is needed for them to heal and develop a plan to make that happen."
Dr. Street treats patients with wounds and skin ulcers that aren't healing properly, often playing the role of "wound detective" to figure out what isn't working, then moving to fix the underlying issue while providing advanced wound care. Dr. Street has practiced as a general surgeon since 2001, and over time built a passion for wound care management. Today, the focus of her practice is caring for wounded patients and growing the program at VCU to improve access for patients with wounds.
"We have an opportunity at VCU Health to build the wound care program into a comprehensive wound care center," Dr. Street says. That can include hyperbaric oxygen therapy (exposing the body to 100% oxygen at a high pressure, which can speed healing), a full lymphedema clinic for non-cancer patients, diabetic foot care, support groups for patients with spinal cord injury with pressure ulcers, and nutritional counseling.
The complex world of wound care has grown exponentially over the past few years, and with it, an increased knowledge is required to be successful. In 2017, Dr. Street received national board certification in wound care management through a rigorous process developed by the American Board of Wound Management (ABWM), which has elevated the standard of care across the field of wound management. She is a fellow of the American College of Surgeons.
Clinical Interests
Would Healing